After  a very busy week of planning, building, revising, adjusting, and sharing students finished their trap project.  This project was a consolidation of science concepts that they had been working on for the past month within the structures and mechanisms unit. Students combined their knowledge of strong and stable structures with knowledge of the force of simple machines including gears, pulleys, levers, and inclined planes to design and build a trap.
It began with a question: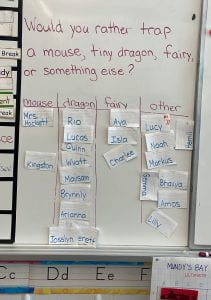 Students got into groups and began to plan.  There was a lot of discussion as they learned to compromise and share ideas in a respectful way. Students drew their design, labelled various parts and made a list of materials needed.
Then students got down to building! Our classroom turned into a VERY busy construction site! The project prompted a lot of problem solving and discussion. Once the building was completed the grade 1's came in to view the projects giving our class a chance to share their learning. It was certainly a project to be proud of!
A HUGE thank-you to all of the families that donated building supplies! Your support is greatly appreciated!