Implementing the program, "Zones of Regulation" is a school wide initiative.  It is a program to foster self-regulation and emotional control.  There are a series of lessons that are taught to the class.  Students are taught to recognize their emotions and the emotions of people around them.  They are taught to realize that their behaviour affects the emotions of those around them.  Students also learn strategies to help themselves get into the GREEN zone.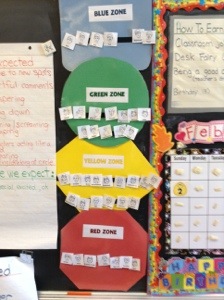 The ZONES are posted in our classroom and referred to often. 
There is also a poster in the hallway for students to use as well.
Please ask your child to tell you what we have learned and how he/she can use the information to help him/herself and others.  Remember, we are working with this program all year and new concepts are being taught each week.
If you would like more information please call me or check out the website: http://www.zonesofregulation.com/