We made it to the 100th day of school!  We had a grand celebration! The day started off with our calendar as we completed the tenth 10-frame and counted to 100 by tens. Then we added another stamp to our hundreds chart to see what 100 looks like counting by ones.
Then it was on to some 100 fun!
We started with a number line hunt.  Students went on a search in the classroom for numbered pegs. Once they found a peg they added it to our number line.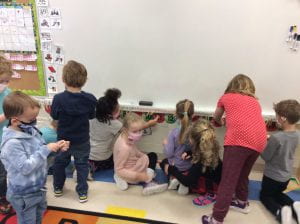 Students built, stacked, and created, all with 100 things!
We ended the day by counting to 10 ten times with stickers and stamps.  The end product was a funky 100 day hat!